No Matter The Situation, Your Water Removal is in Good Hands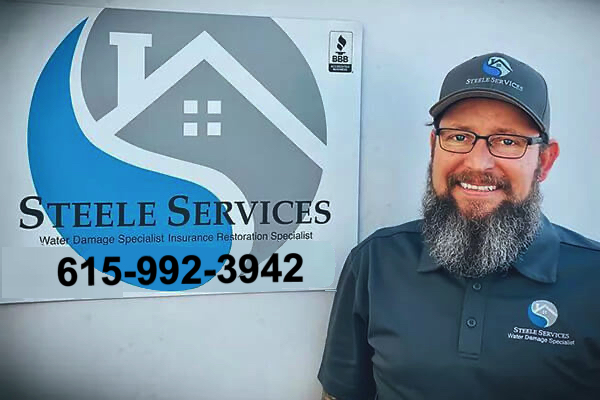 Water damage can be a complicated problem and it calls for a trained, certified professional to handle the cleanup. Prolonged exposure to water damaged conditions can lead to loss of personal belongings and/or affect the structural integrity of your home or business.
At Steele Services our team has the expertise and equipment to handle all of your water extraction and removal needs. We're available 24 hours a day, seven days a week to provide immediate water extraction services right when you need them. No matter the source, standing water needs to be removed as soon as possible to minimize the damage to the structure. With years of experience and water pumping and extraction services offered around the clock, Steele Services is the place your can trust for your emergency water extraction needs in the Goodlettsville area. Allow us to help you navigate the recovery and restoration of your home or business, so you can get back to your normal routine as soon as possible. Steele Services will walk through the water restoration process with you while we are restoring your property to pre-damage conditions.
Our time as a Goodlettsville water damage restoration company has allowed us to work on a variety of water damage issues. some of the more common situations we handle include:
Refrigerator & air conditioner leaks
Water heater, washing machine, and dishwasher overflow
Leaky, broken, and frozen pipe water damage
Toilet overflow and leaks
Bathtub overflow & sink overflow
Storm Damage
Sump pump failure
Hardwood floor water damage
Fast and Efficient Water & Storm Damage Recovery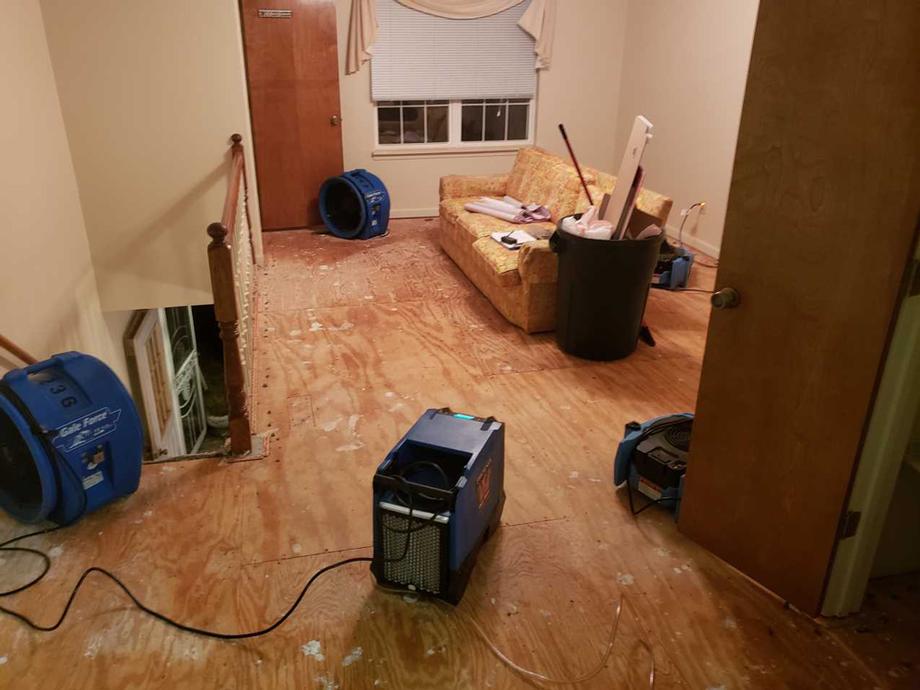 When storms roar through, Goodlettsville TN, floods inevitably occur. Heavy rain and hail can pelt at houses, causing water to infiltrate the home. For emergency water removal and cleanup due to storms, call Steele Services as soon as possible. You aren't sleeping through the storm, and we aren't either.
Our experienced water damage specialists will come onsite to recommend stop-gap measures to help prevent further, escalating damage from the water. After our initial assessment, we will take care of the whole process for you starting with water extraction, and we'll make sure you are left with a safe, secure, and dry home.
We advise property owners DO NOT attempt to dry out their property on their own. Water from storms or floods will inevitably contain microbes and bacteria that will cause mold spores to grow within 24-48 hours if left to sit on any organic surface like drywall, flooring, or even the legs of furniture. Our storm damage experts in Goodlettsville know the precautions to take and have the right equipment to safely remove the water or moisture and get you back to dry.
Avoid DIY Water Damage Cleanup & Repairs
While a leaky pipe in the kitchen is manageable by most property owners, there are circumstances in which you should not handle the clean up of a water damage situation. Basement and crawlspace water damage cleanup in Goodlettsville can be a very dangerous situation to handle if not done properly. The structural integrity of your property could be at risk, not to mention these areas are prime for the development of mold, which can be hazardous.
Sewage removal is another situation in which you should call in the professionals. Sewage damage may contain bacteria and viruses that could cause illness or worse. If you find yourself needed sewage damage cleanup, call our water damage company as soon as possible so we can handle the emergency and reduce the potential damage.
The Top Water Damage Experts With The Best Equipment
Water extraction and removal on its own is not enough to remove all of the moisture from your home or business after you've experienced water damage. Water is pervasive and remaining moisture can hide behind the walls, inside the ceiling, under the flooring, and even inside your HVAC system where it can wreak havoc if not properly dried out. Our trained and certified technicians have the equipment necessary to detect this hidden water. We're ready to handle your structural drying emergency 24/7 and have the expertise to provide expert drying and dehumidification services with high-velocity air movers and dehumidifiers to remove moisture from the air and your structure. Your property is one of your greatest investments, and with so much at stake, you can trust Steele Services to help you things back to pre-loss conditions as soon as possible so that you can keep moving forward.
We have the knowledge and state-of-the-art equipment to handle small contained water damage to the biggest water removal jobs. Our residential and commercial property restoration in Goodlettsville TN is tailor-made to your situation, so you won't overpay for what you don't need.
Basement Water Damage Repair & Flood Damage Cleanup
As a homeowner, one of the worst things that can happen is having a flooded basement. Aside from causing damage to your property, it can also pose health risks to you and your family. There are several reasons why water in basements can accumulate, including heavy rain, melting snow, plumbing leaks, and malfunctioning appliances. Ignoring this issue can lead to more severe problems such as mold growth, structural damage, and decreased property value.
Preventing basement water damage is crucial for the safety of your property and your family. By being proactive, you can ensure that your basement remains dry and free of water damage. Remember to maintain your gutters and downspouts, ensure proper grading around your home, invest in a sump pump, fix plumbing leaks immediately, install window well covers, and monitor your appliances. By taking these steps, you can prevent basement water damage and enjoy a safe and dry home.
if you do need basement water damage repair, call Steele Services at the first sign of trouble.
Goodlettsville Property Owners Choose Steele Services For Their Water Damage Repairs
When you have water damage near you, the last thing you want on your mind is whom to trust when hiring a water damage company. We have been offering top-rated water damage repair services since 1993. Residents in Goodlettsville TN and the surrounding areas have trusted us with their water restoration because of our honesty and the relationship we build with you, the client. If you have suffered from water damage or have an emergency, contact us today to get started with our water damage services.